Thursday , 25 May 2017

Ellinair is the official air carrier of the State Theater of Northern Greece.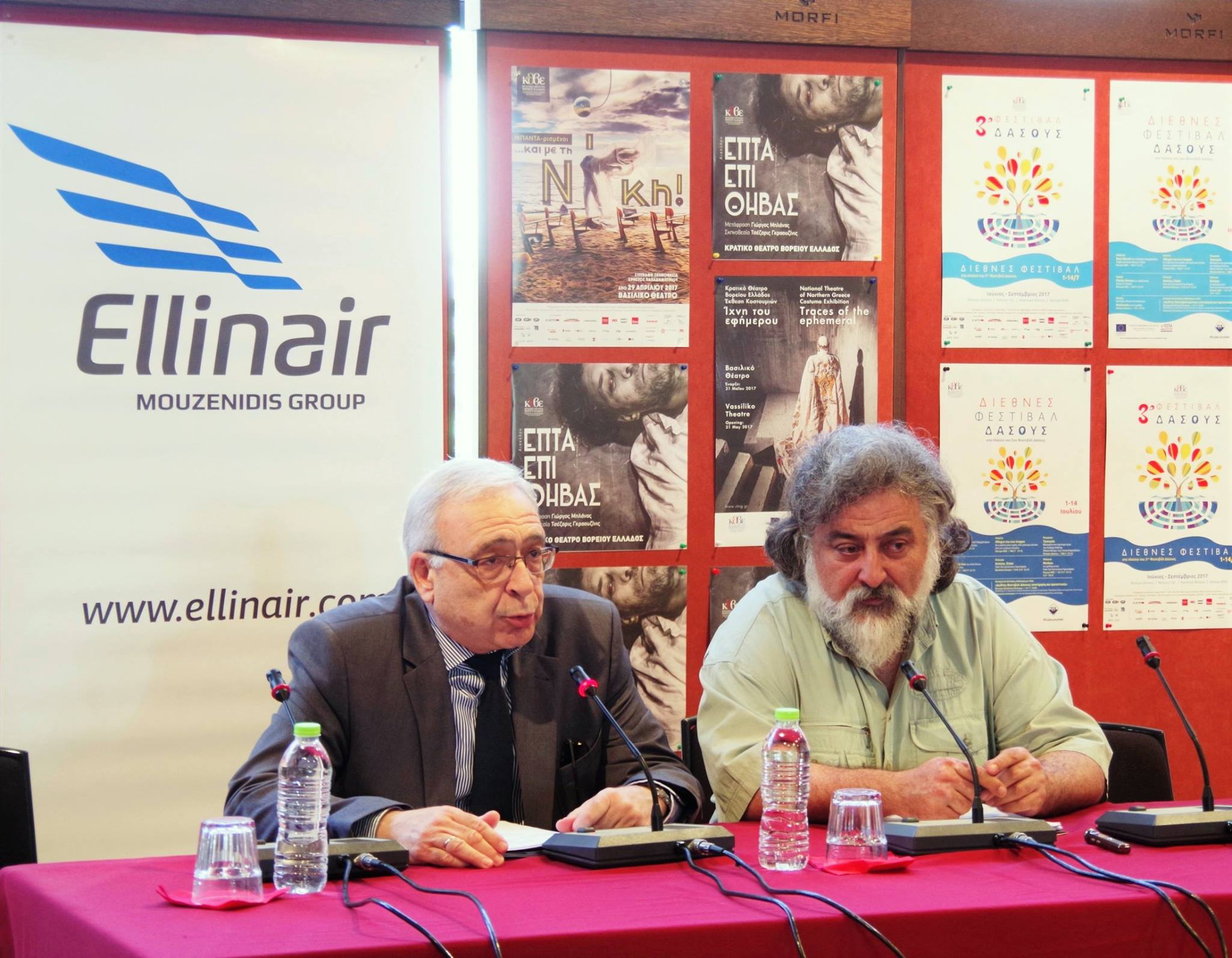 Today, May 25th , the Royal Theater of Thessaloniki held a press conference discussing the summer events of the State Theater of Northern Greece, the most important art institution of Thessaloniki. The presentation of the program was carried out by Mr. Yannis Anastasakis, the director of the theater, who in the beginning of the event, thanked Ellinair, the official air carrier of the State Theater of Northern Greece. Its contribution in this year's organization of the International Forest Festival, according to his statement, is very important. In his welcome speech, Mr. S. Daliakas, Ellinair's Commercial Director, confirmed the company's support of the State Theater, emphasizing the social awareness and involvement of Mouzenidis Group in public events of humanitarian and cultural nature.
The State Theater of Northern Greece will present two productions this summer: "Seven against the Thiva" by Aeschylus, thus opening the "Epidavria" festival, as well as the entertaining revue "The Squad ... Together toward Victory" at the Royal Theater, which will be entertaining to all visitors, who have decided to spend their vacation in the city. Moreover, the Theater promotes the Athens Festival with its successful production of the "Family Holiday", which will be presented in July in the conference hall of the National Theater (the "Ziller" building).
The performances of the State Theater that are especially loved by the audience, ("Asketika", "I never forgot you", "Les Miserables") will go on a tour around Thessaloniki and the region, as well as the Summer Art Workshop, held exclusively for children aged 4-11. It is planned to host the third International Forest Festival, that is gaining popularity, as the International Forest Festival will be held from 1 to 14 July, hosting major international performances from abroad and one from Greece, from the Festival of Athens and Epidaurus. In conclusion, the opening of a permanent costume exhibition at the Royal Theater, is expected to be highly interesting, exhibiting costumes from the most important productions of the State Theater for all the 56 years of its functioning.
@gallery2443gallery@