Tuesday , 02 May 2017

Inspirational opening ceremony of Enigma Mall, Mouzenidis Group.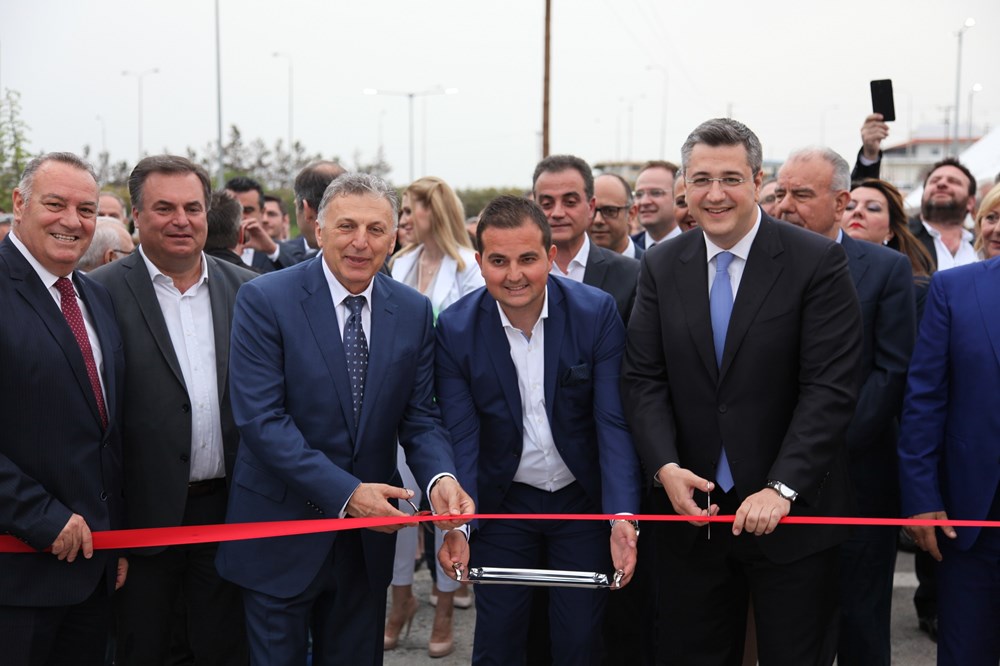 The enigma was eventually solved on Saturday April 29th!
On a glittering evening, with more than 1,000 guests, the opening ceremony of the Enigma Mall Shopping Center, Mouzenidis Group, that is Ellinair is part of, took place on Saturday, April 29th, in N. Moudania, Halkidiki, in the presence of representatives of the local government and of the wider region, foreign diplomats, businessmen, hoteliers and associates. This is one of the most important investments made this year in Halkidiki and it is the only Shopping Center in Greece that - in addition to its commercial use - permanently exhibits sculptures made by Greek and foreign renowned artists.
After the sanctification process where the mall received the blessing of a priest, in a festive atmosphere, there followed the ribbon-cutting ceremony by Mr. Boris Mouzenidis, the President of the Group, and Mr. Apostolos Tzitzikostas, the Regional Governor of Central Macedonia.
As the Enigma Mall's General Manager, Mr. Tasos Bozidis, stressed in his speech:
 "The brand-new Enigma Mall is an aesthetic shopping center with 37 stores, employing 200 people from the region and covering all the consumer needs of a tourist; it is equipped with an indoor multipurpose room, currency exchange, a gourmet Restaurant - Café, a playground, parking and outdoors relaxation area. We are also very proud that renowned sculptors have trusted their precious creations to be exhibited at Enigma Mall, following the collaboration of Mouzenidis Group with the well-known Art and Auction House Myrò Antiques House, giving our visitors a chance to admire and buy the masterpieces. "
Mr. Tzitzikostas in his greeting said:
"Enigma Mall is a state-of-the-art commercial enterprise that is highly innovative – it marries trade with culture. People like Mr. Boris Mouzenidis who have dedicated themselves to promote the tourist product of the region and invest their money here in Greece, offering jobs, need the support from all of us. "
The Mayor of Propontida, Mr. Emmanouil Karras, also welcomed the establishment of Enigma Mall in the Municipality of Propontida and thanked the President of Mouzenidis Group, since the new shopping center contributes to the reduction of unemployment in the area.
The renowned singer, Mr. Ilias Kabakakis, the Virtuosos musical band, the Cretan Orchestra of Mr. George Magglelakis and the performance of the Union of Cretan Students of Thessaloniki, and the hostess of the event, Mrs. Chrysa Autara, took over the enthusiasm of the guests.
The highlights of the opening ceremony were broadcasted live on social media of Mouzenidis Group.
Fireworks at the end of the night illuminated the sky of Halkidiki, completing in the most impressive way the successful opening of the new shopping center that will make a difference in the market of Northern Greece.