Thursday , 09 February 2017

New distinction for Ellinair airline – "SVO Awards 2016"!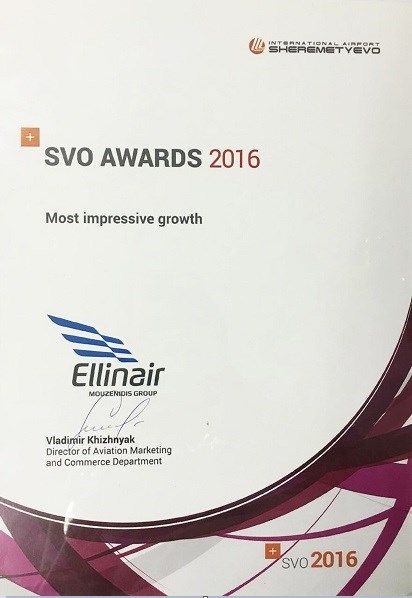 Sheremetyevo International Airport, Международный аэропорт Шереметьево, awarded "SVO Awards 2016" to the best airlines, operating from the Russian capital.
Ellinair airline won the nomination "Most impressive growth". It is worth mentioning that last year Ellinair has also been awarded as one of the best companies on "SVO Awards 2015". In addition was awarded in two categories: «Start of the year» and «My favorite foreign company».
Ellinair was founded in 2013 in Thessaloniki by Mouzenidis Group to ensure the quality and the necessary flexibility in transportation of the about 500 000 tourists a year, mainly, from Russia and Ukraine to Greece.
The company's development program is intended to include each year new routes and destinations. Recently announced new flights that will connect in 2017 the Greek city of Kavala with Moscow and St. Petersburg, allowing the Russian tourists to discover the most beautiful places of Greece.