Tuesday , 17 November 2015

The successful presence of «Ellinair» at the international exhibition of tourism «Philoxenia 2015»!

 

«Mouzenidis Group» and «Ellinair» had active appearance on the 31st International Tourism Exhibition Philoxenia.
The holding «Mouzenidis Group», with presence in more than 80 cities around the world with the independence and specialization in the provision of services as a springboard, ensures high quality and great value for money.The impressive stand of 120 sq.m, which hosted the 18 companies and action areas of the «Mouzenidis Group», attracted the interest of public and professionals, consequently the attendance has exceeded all expectations.

The «Mouzenidis Group» sponsored the conference «Destination Thessaloniki: 365 days", with prominent speakers from Greece and abroad, to promote the potential which develops in different forms of tourism in Thessaloniki and the surrounding areas, throughout the year.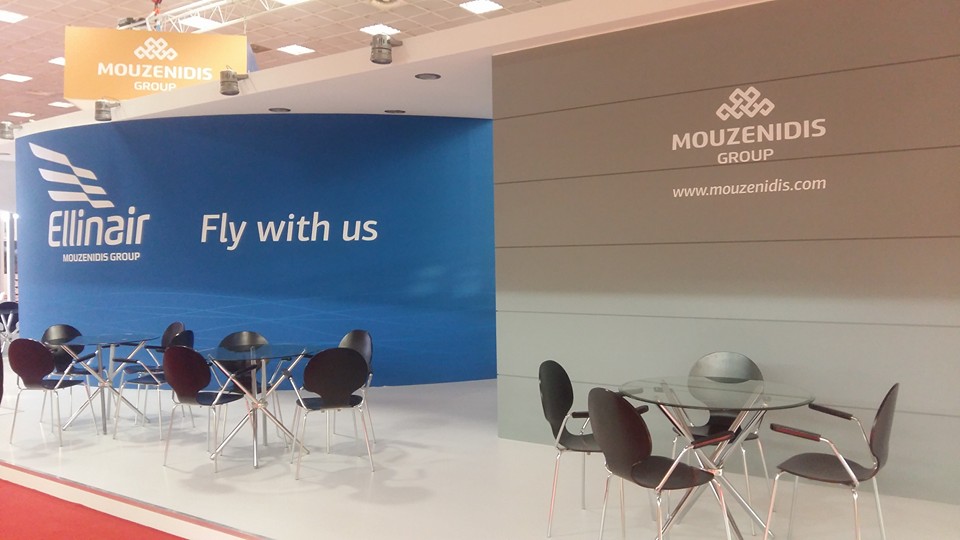 Additionally, Friday, November 13 in the framework of Philoxenia, in the hall "Thessaloniki" of Vellideion Conference Centre held an event in order to present the development planning of «Ellinair», as well as new tourist destinations for the festive season of Christmas, New Year and Epiphany 2015-2016.
The event was welcomed by President of the Tourism Promotion and Marketing Organization of Thessaloniki, Mrs. Voula Patoulidou, who emphasized the importance of the «Mouzenidis Group» activity and wished new successes.
The president of «Ellinair», Giannis Mouzenidis, during his speech, referred to the new flight schedule of the airline company for 2016 and to the fleet increase with aircrafts of Boeing and Airbus type.
Specifically he announced that the fleet of «Ellinair» will consist of eight (8) in total aircrafts, two (2) Avro RJ85, four (4) Boeing 737 and two (2) Airbus 319 and that doubling of the existing number of aircrafts is planned in summer 2016.
Referring to the new countries where the activity of both «Ellinair» and «Group» is extended, he informed that emphasis has been placed in Western Europe and that this time the most important markets are Cyprus, Poland, Turkey and Germany, announcing the establishment of the new «Mouzenidis Group» offices in Cyprus and Germany.
Also, Mr. Mouzenidis underlined the significant potential profitability that can offer «Ellinair» for travel agencies and noted that cooperation is a key tool for mutual development.

During the presentation, were extensively demonstrated the new festive programs to destinations of east and west Europe and the various possibilities of the company «Mouzenidis Travel» , that are offered to travel agencies for prompt online service.
The completion of speeches followed draws with prizes.